"...a heady mix of hellfire blues and soul-searching folk, summoning a sound that falls somewhere between Johnny Cash and Johnny Winter."
"There's nothing like finding out about a little known but awesome talent and get to be the one telling the world about them. It doesn't happen very often but, when it does, it's a real personal treat. This is one of those cases. To put it short and sweet, Jeff Powers is awesome and his new, self-titled CD is an excellent showcase of his incredible talent." Randy Patterson Boomerocity (May 27, 2012)   
"Jeff Powers is one of Rockwired's "25 Guitarists You Gotta Know"…his self-titled release is an engaging listen that will leave the listener amazed at the guitarist's musicality and virtuosity as well as his tremendous sense of songcraft." Brian Lush ROCKWIRED MAGAZINE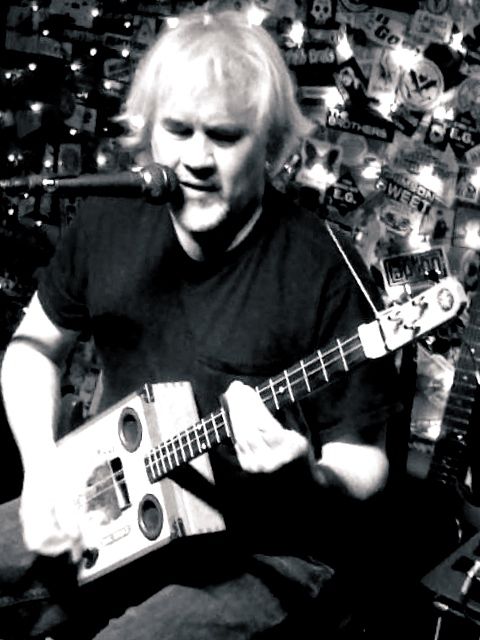 Playing a gut-bucket slide on his 3-string Cigar Box Guitar while singing and stomping on a tambourine and an old trunk (kick drum), Cleveland native Jeff Powers creates his own "gumbo" styled brand of Roots, Blues and Americana. Powers sounds like Neil Young joined the Black Keys to play a little blues!
His rockin' style was formed through a mix of experiences including hitting the road (hitchhiking with no destination in mind) and landing in New Orleans. That magical all night city with its Blues, Voodoo and Creole culture is where Jeff hung out and began learning how to play Roots and Blues music. 

"Powers has a heavy hand and a sharp axe…his self-titled debut preaches a heady mix of hellfire blues and soul-searching folk, summoning a sound that falls somewhere between Johnny Cash and Johnny Winter."  CLEVELAND SCENE
After living for some time in New Orleans, Jeff headed back to Cleveland and began studying, performing and earning a degree in Classical guitar from the world renown Cleveland Institute of Music. Then in a twist of fate Jeff ended up living as an illegal alien in Mexico City for seven years. He went there to perform and teach classical guitar but ended up playing in blues bands at different parties, back road bars, jails and colleges. 
After his stay in Mexico, Jeff returned to the US and also to his songwriting…something he had been doing on and off for years. Writing songs had always been his most personal form of expression.  

"Jeff is one of Rockwired's "25 Guitarists You Gotta Know"
Attracted to the real raw Rock n Roll like Link Wray, The Sonics and old school Blues artists like RL Burnside and Lightnin' Hopkins, and to songwriters like Bob Dylan, Neil Young and Jeff Buckley Jeff started creating his own blues and roots style that was a little more rockin' and artsy than the traditional types.  
Most recently Jeff began creating music with even a more primitive lo-fi approach often using slide with a 3-string cigar box guitar and and singing through a telephone to produce really raw sounds. Jeff's latest CD "If It Ain't This It's That" is a Rockin' 13 song solo performance of all 3–string Cigar Box Guitar with that lo-fi approach. He sings and plays his 3 String Cigar Box Guitar while stomping a Kick Drum (old trunk) and a Tambourine...a true 1 man band! Because Powers grew up in the 60's and listened to those early garage bands and the Blues and Roots of that era his playing and songwriting is now so "old school" that it now comes across as something very modern today and is embraced by the young audience.